Inspiration – The Gap of Dunloe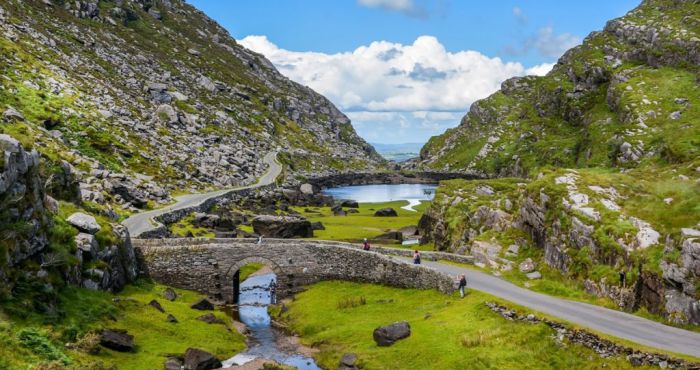 Off the beaten path in Ireland… The small country of Ireland is a land of contrasts between the east where you'll find Dublin and Belfast and the big open spaces of the west.  The Lake District of County Kerry, as its name suggests, is a gorgeous lake area in the southwest with the small town of Killarney at its center. Nearby is the famed Ring of Kerry, a stunningly beautiful road that encircles a small peninsula.  Yes, driving the Ring of Kerry is a wonderful outing, but you, my friend, are going to do something different than the busloads of tourists typically do.
Near Killarney, you'll find the Gap of Dunloe, a small mountain pass that allows you to transit from the Purple Mountain Group in the east to McGillycuddy's Reeks in the west, ending at a series of small lakes. Here we go!
Get yourself to little Kate Kearny's Cottage, west of Killarney. Grab a few provisions and lace up your sneakers before you set off along the gentle incline, up through the Gap.
As you meander along the rocky dirt road, small hills, classic Irish stone walls, and a small stream punctuate the landscape.  You may need to accommodate a few cyclists or jaunting carts as they trot gently beside you.  (A jaunting cart is a small horse and trap with a driver and room for 3 or 4  passengers.) You may even occasionally see a sturdy and determined car, but there are not many of those.
This evocative 6-mile walk leads steadily upward with plenty of time to stop and take in the scenery.  Perhaps you'll rest beside the stream (the Loe River) or partake of a little sustenance or libation along the way. If you make a wish at the Wishing Bridge, they say it will come true.
After you crest the hill, the descent takes you slowly down past simple houses to a small lakeside pub  (Lord Brandon's cottage) where you can refresh yourself after the hike. Sooner or later, a small boat will stop and pick up any waiting passengers for a small fee.
Your chatty Irish pilot will ferry you back to Killarney through a series of connected serene and beautiful lakes, telling tall tales along the way. The more you chat, the better the stories will be. Smiles are guaranteed.  Soon enough he will deposit you at the small boat dock in Killarney. If you ask him exactly how long the walk through the Gap is, he might answer with a smile and a wink, "Oh, six miles and a bit — where the bit is more than a mile."